Video Guide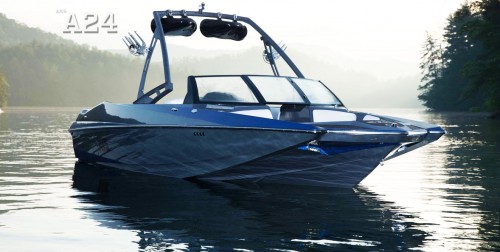 At long last, Axis Wake Research has released a 24 foot model. Malibu's offshoot company Axis has been making phenomenal wake centric, price point boats for years, but the lineup has been missing a large family friendly boat. With that market in view, the fine folks at Axis have announced the A24 model to fill the void.
Now Lets Review of Axis A24
The A24 is a large capacity family friendly boat, that is designed to bring epic wakes and responsive handling in a budget friendly package. The layout of the boat is geared toward families and crews who want to have a full experience on the water without sacrificing space or comfort. All of the necessities are there — high powered engine, beefy ballast system, GPS cruise control, and a high def audio system. If that weren't enough, there's also a few luxuries usually reserved for top tier inboard boats.
This boat is: Large, Family Friendly, and Ready for Wake
Quick Review of Axis A24 2014 Specs
Length: 24′
Beam: 102″
People: 17
Load capacity: 2,400 lb.
Fuel: 78 gal.
Dry weight: 4,500 lb.
Standard ballast: 1,000 lb.
Max ballast: 2,250 lb.
Standard engine: Monsoon 330 hp 5.7L CAT
Max. horsepower: 450
Notable Features:

Hi Flo ballast pumps
GPS speed control
Customizable graphics and color scheme
Premium Audio
Twin Tip Open Bow Design
Surfgate Attachment Option
Is it the Right Boat for You?
In true Axis fashion, the A24 has been engineered for the purist in everyone. As the Axis Wake Research name implies — this boat is for people who want to wakeboard, wakesurf, or just create amazing wakes. So with that in mind, if you are looking for a family friendly boat the creates a low profile wake, then this is not the boat for you.
On the other side of that coin though, if you and your crew are a small group of hardcore wakeboarders then you may be better suited in an A22 or even A20. As has already been highlighted, this boat is for large groups and hardcore families who need a larger boat for wakeboarding.
The A24 creates a large, steep rampy wake, one that is spaced a little further apart than a mid sized boat. In consideration of this grandiose wake, get ready to launch higher than you ever thought before, since each hit on this boat is like hitting a perfectly timed double up.
One of the biggest strengths of the A24, though, is it's uncanny ability to crank out a huge surf wave. With the addition of the Malibu Surf Gate, the A24 is an unstoppable wakesurfing machine. Couple that with over 3000 lbs of ballast weight, and 17 of your closest friends and your wave will rival the swells of Teahupo'o.
Ultimately, this boat is for anyone who has a large crowd to please and wants consistent performance and versatility day after day. The A24 has the stuff to make every day on the water a legend in its own right.
You can check out how Axis continues to push the limits of dedicated wakeboard boats, and build your very own customized A24 at the official Axis website.
Issues when we Received the Boat:
Broken Anchor Light Above Tower.
Side Plastic Covers on the Engine, one keeps falling out,
The Front inside has a 2in cut in the fiberglass.
The Front Ballast Tank will not Empty, Valve stays Open
Fabric, around cup holders cut to small.
Contacted Dealer – East Cost Flight Craft
They sent me a new Light, old one was a pain to replace end up cutting my foot trying to remove, had broken bulb all over boat.
Tech had to move wires, and rescrew plastic parts inorder for it to fit.
They will look at fiberglass when we take out for winter but they say Malibu will cover under warranty.
Ballast tank, the contacted Malibu and they are sending a new Valve.
Fabric Malibu has been contacted and they will be replacing in winter under warranty.
With these things said i would say the Boat is a Definite BUY and Highly
Recommend for any one who loves Wakeboarding and or Wakesurfing!