Insane Inflatable 5k All Obstacles i did this Race in Cape Cod in August 2015, Weather was not that great but still had a fun time, i think there was a lot more Obstacles compare to the Wipe Out Run!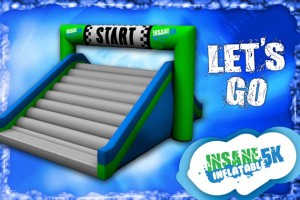 The Insane Inflatable course is one like you've never experienced in any other race. We spent countless hours huddled together trying to make each obstacle as unique, challenging, and most importantly — FUN — as possible.
The course length will always be approximately a 5K distance (3.1 miles), yet each venue provides it own unique terrain. Ideally, you'll complete the course without worrying who is the fastest, most skilled or talented. Some may say we're INSANE, but if wanting everyone who comes to our party to have fun – even if that means walking from obstacle to obstacle to conserve energy for the inflatable fun that lies ahead, then lock us up in the mad house! The event is NOT timed, so go out and enjoy the course, but if you can't tame your competitive side and think you can blaze on through the fastest – more power to you!
Read More: Insane Inflatable 5K Obstacles | Insane Inflatable 5K
Insane Inflatable 5k All Obstacles
Some more Videos