Intro
Hey guys this Is a updated Guide to CPU Mining as it's been a While since i made the original. I Made the Original Guide back in Jan. 19th 2014 and it's been a long time since then and Bitcoin and Crypto has gone up a lot Since Then!
Over the years, I tried investing a good amount of time and money in Cloud Mining since i thought that would be simpler and i would not have to worry about equipment, well all of my cloud mining investments turned out to be scam's and a lost a lot of bitcoin that way! I now just stick with CPU / GPU / ASIC mining!
This is the DEAD SIMPLE Guide to the Best CPU Mining Software! No Special Hardware Needed, No Video Card needed, No Special Drivers Needed. Just download, install and your good to go!
New to CPU Mining? Where do you Start?
Should you mine with you CPU or GPU (Graphics Card) or Both? Both Good questions.
Cons: increased Electric cost, loud noise, Heat, lower the life of your equipment.
Pros: Learn quickly about cryptocurrency, Possible to get rich, very little downside. you can resell equipment if needed
Here is what i recommend
I recommend starting with what you have, if you have a basic system the just use that, if you have a Gaming Rig great you will be off to a better start. Give mining a good week and see if it's something you enjoy, or are you just getting stressed out?
If after the first week you are hooked then maybe it's time to look at a ASIC Rig or a GPU Rig, if you are not really excited about mining after then then Maybe Trading Altcoins, or Buying and Holding Bitcoin is the way you would like to invest in Crypto.
Which Coin Should I Mine?
If you want the Highest Profit it's a never ending game of cat and mouse…
Some sites to look at for Highest Profit Right now:
Pick a Coin, any Coin…
You can decide on which coin to mine, Because they are all using a CPU miner and not a (Graphics Card) or GPU there is no good website like CoinWarz which will tell you the most profitable coin to mine. I would recommend trying one for 24hours then switching to the next coin the mine that one for 24 hours and so on until you have tried them all and then convert those coins to USD and see what is most profitable. Over time that you will want to try again and see if another coin is more profitable.
How to Install the CPU Mining Software
1.)Disable your Antivirus.
Disable for at least 15 Minutes, and Exclude from future Scans
and here is why…
You should be saying – That seems Suspicious… Why should i disable my antivirus is this a Virus? The answer is no it is not a Virus, you can verify this my reading the comments or my other posts or my videos, or download a software called Sandboxie which will let you test out software you don't know if it's good or bad. All CPU Miners will show up as Virus you can verify this by leaving you antivirus on and downloading a CPU Miner from a different site you antivirus will remove it before it even downloads. I recommend disable it for at least 15min. After it is download, installed and then you will need to Exclude  the install folder Depends on Software installed from future Scans.
All Crypto mining software will come up as a virus, if you can find one that does not I would be a miricale.
more info here: https://www.trendmicro.com/vinfo/us/threat-encyclopedia/web-attack/93/cybercriminals-unleash-bitcoinmining-malware
2.)Download
In order of my personal Preference:
Pick one pick them all it's up to you, depending on you CPU / GPU one might work better than another so give them all a try, but once you find one you like stick with it for at least 1 week.
1.) MinerGate: https://minergate.com/a/2304b35ba79c59097d2f4e6d
Simple to use, will give you Alt-coins and you can convert them, you will learn a lot quickly, auto mines most profitable coin.
2.) Nicehash: https://www.nicehash.com/cpu-gpu-mining
Simple clean, will payout in Bitcoin weekly, no converting to a different coin, has a high profit.
3.)Eobot: https://www.eobot.com/new.aspx?referid=1305206
No worrying about a bitcoin wallet, Paypal payout, for people who want to see the CASH!
4.)MultiMiner: http://www.multiminerapp.com/
5.)GuiMiner:  https://guiminer.org/
6.) Awesome Miner: http://www.awesomeminer.com/
3.) Install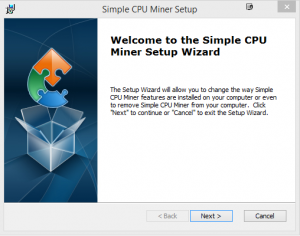 4.) Enter your Receive Wallet Address:
If you don't have a Wallet i recommend Exodus Wallet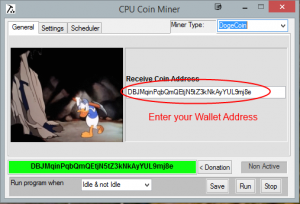 Enter your wallet for the Miner Type Selected , If you want to mine a Different coin you will need a address for Each Coin Mined.
5.)Test the CPU Mining Software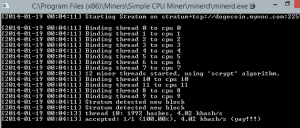 Make sure Start Program invisible is Unchecked, Make sure IDLE & not IDLE is Selected and then Run,  a Dos Screen should pop up and say Yay!! After a Minute or two. If nothing pops up check your antivirus software and try another coin see if it works then.
6.)Run Software on PC IDLE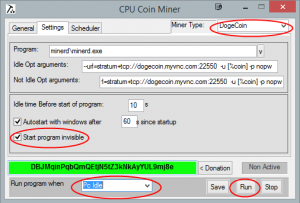 Verify the Coin you want to mine under Miner Type, check Start Program invisible, Run Program when: PC IDLE, then Click Run.
7.)Watch Keep a eye on your profit's you should have at least a weekly payout.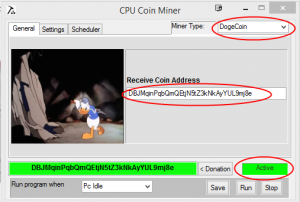 Some coins might come with in 1-2 hours others might take 2-3 days depending on your system speed and the coin difficulty. Good Luck!
8.) Exclude CPU Miner Software from your Antivirus
How to Exclude a Folder Depending on your Antivirus Software. ( Exclude Folder C:\Program Files (x86)\Miner Software name)
If you have another AV, just search google "exclude a file or a folder from scan (name of Antivirus)"
Now you have my CPU Mining Software, go and get those Coins!
Let me know if you want to see any other coins added to the software or if you have any problems below.
If these seems way to much work your just not your thing…
Don't give up on Crypto a couple of other ways to get into Cryptocurrency would be
1.) Purchase Via Coinbase. You get $10 on new signups if you deposit $100. I recommend purchasing a set amount per month like lets say $50 per month for 1 year and after that revaulate if it's right for you.
2.) Altcoin Bounty programs In this case you would do stuff like marketing and put up blog posts and they will give you free altcoins
3.) Learn more about Crypto with Reading Books and listening to Podcast i like Bad Crypto Podcast.
4.) Join Facebook Groups
https://www.facebook.com/groups/CryptocurrencyICO
https://www.facebook.com/groups/badcrypto
Track you Profits:
https://www.cryptocompare.com/portfolio
If you want to Tip or Donation:
All Tips & Donation goes towards improving the software!
Copy Donate Address: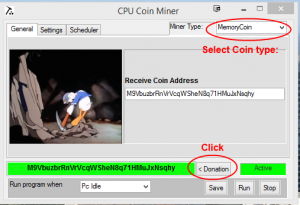 Send Coins: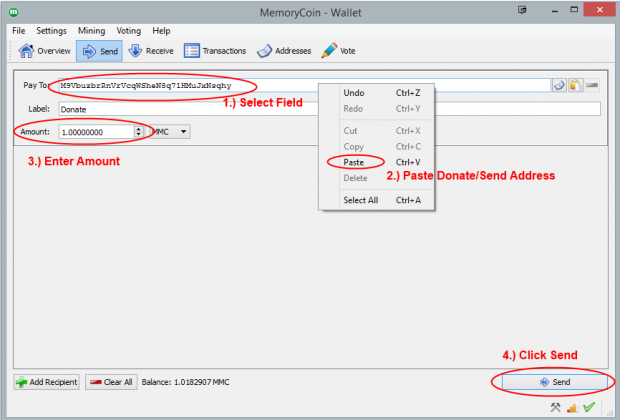 Spread the word please give me a Like, Google +, Tweet or just leave a comment!